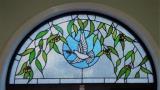 Women's Fellowship:
Meets on the 1st Thursday of every month at 10:00 am. Recess December and January.
Contact: Robyn Wieck – 4691 2940
Know Your Bible (KYB) – Women's Bible Study Group
Meets at 2:00 pm on Fridays, (not very week) check with Coordinator.
Contact: Carol Wieck – 4691 1890 or Machi Rietveld.
Men's Breakfast
Meets the first Saturday of every 2nd month
Contact: Trevor Cockburn – 0409 633 352
Choir
Practice Fridays at 4:30 pm
Contact: Daphne Webster – 4691 1674
Prayer Chain
Contact: Nancy Chalmers – 4691 1309
Blue Card Coordinator and Fire Warden
Contact: Robyn Wieck – 4691 2940
Indoor Bowls and Cards (in recess)
Contact: Val Austin – 4691 1715
Newsletter Editor
Christina Putland – 0459 031 427 Submissions due by the last Monday of each month. email – cputland@hotmail.com